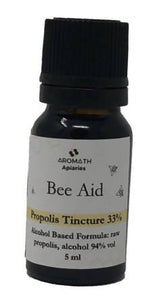 AroMath Apiaries Inc.
Propolis Tincture 10 ml
Regular price
$15.00
$0.00
Unit price
per
Propolis Tincture 30% Propolis is a sticky paste the bees make to seal their hive and sanitize it. It is a complex natural antibiotic with some of it's bio components still unknown to modern science. Can be used internally to support immune system or on cuts or burns. Please read instructions on the bottle.
---