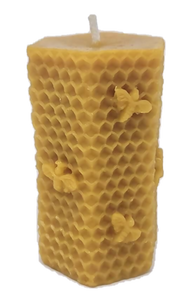 AroMath Apiaries Inc.
Honeycomb Hexagon Candle
Regular price
$15.00
$0.00
Unit price
per
Specifications: 1.6"x 3", 110g


AroMath candles are made of 100% pure beeswax.

Beeswax has its own rhythm and unique burning time, and unlike other "natural" waxes or paraffin, it has its subtle but complex scent, therefore no need to add any fragrances. Yes, this is how pure beeswax smells! The wick we chose for our candles is being whitened and purified through the use of a salt solution, resulting in a cleaner burning wicking. No bleaches or peroxides are used in the making.

Mindful in choosing the ingredients for our candles, we make sure that they preserve the therapeutic benefits of beeswax:
       Negative ions produced by beeswax candles help to neutralize pollutants
       Better sleep after cleaning the air with the beeswax
       Suitable for people with asthma or allergies
        No scientific studies have proven that beeswax candles improve your mood. But, many people swear that they do!
---